This week our team fitted and mounted York Coffee Emporium's brand new large 8x8ft rigid metal sign. It was fantastic working with these guys and just for the record, we sampled their coffee & it was great – definitely check them out!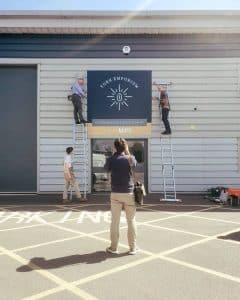 For any enquires regarding exterior signage for your business, get in touch now by clicking here.
Exterior / outdoor business signage manufactured by Andrews Signs create a fantastic first impression for your customers! Due to years of experience, we can advise on design and manufacture exterior signs to the highest quality.
Choose from shop fascias, to window signs. We can manufacture rigid sale boards in addition to all types of banners, fitting with your bespoke requirements and design elements.
A perfect marketing tool due to eye-catching designs; draw custom straight to your door! Our design team can assist in choosing the most suitable option for you and your business . Contact now for a quote tailored personally to you.