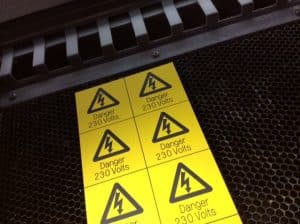 Here at Andrews Signs, in addition to our signage capabilities, we are also continually investing in the latest cutting edge machinery so that we can provide signage and engraving solutions of the highest quality and precision.
Our most current machinery is a high speed medium-sized laser marking machine with incorporated gantry technology. With a huge working area, this allows us to mark and cut a multitude of signage materials at a fast turn around time.
We are later this month taking delivery of a new Roll X machine from Rollsroller (watch this space!), a flatbed applicator for speedier signmaking and print finishing. Our commitment to continually investing in state-of-the-art machinery allows us to turn around orders at a faster response time, to a higher specification with enhanced quality.
For more information on how we can assist you with your next industrial, or commercial signage project, call or email us with your requirements and we would be happy to give you a  bespoke quote.
01904 400800